Transit Watch,
BE Involved.
BE Informed.
BE Alert.
BE Prepared.

These 4 "B's" are your ticket to a SAFE, SECURE ride.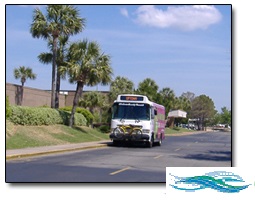 For your safety, buses stop only at designated bus stops.
No smoking
Alcoholic beverages may not be consumed.
No open containers of food or drink.
No pets are allowed, except for service animals.
No profanity or loud talking.
Music should be heard only through earphones
Shoes and shirts are required.
Please do not litter on the bus or at bus stops.
No weapons of any kind including, but not limited to:
Firearms, Knives of any length, composition or description.
Most cutting instruments, including:

carpet knives and box cutters (and spare blades),
any device with a folding or retractable blade,
ice picks,
straight razors.